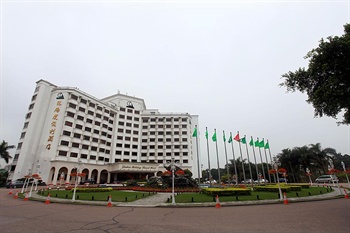 The Zhuhai Holiday Resort Hotel (Zhuhai Dujiachun Jiudian) is near to the Jiuzhou port and offers free shuttle-bus service between port and hotel. It is about 60km from the airport.
The Resort Hotel has 500 deluxe rooms and 89 various villas in French, English and Spanish styles. Located on a peninsula, it offers an excellent view from every room.
The hotel has a wide variety of entertainment facilities both indoors and outdoors, such as the landscape-style swimming pool , the most deluxe nightclub & the largest outdoor tennis court and indoors tennis court, shooting, go-cart, bowling etc.
For business travels, the hotel has over thirty fully-equipped banquet and meeting rooms, three multi-function ballrooms which can meet all discerning travelers. Moreover, there are eight elegant restaurants and bars within the hotel too.